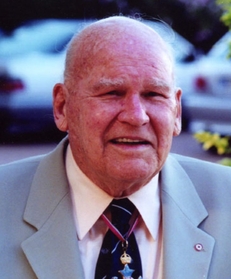 DR. JOHN HOLTER
Honorary DSc Sheffield, Honorary CBE, Honorary Member SRHSB


1924-2004
In 1955, after seven years of trying, John and Mary's first child was born. The birth of Casey Holter turned John Holter's life upside-down and changed the course of medical history.
Agonisingly, Casey had spina bifida and hydrocephalus. John Holter, then working as a technician in a hydraulics factory, asked surgeons about the details of the procedure. He was surprised that the problem, which seemed to him like a simple hydraulics issue, had not been solved.
He went home, sat in his workshop, and constructed the first version of a valve that very evening. It was a rough-and-ready rubber-tubing and condom prototype, but it worked. Holter had created a usable version within months. So quickly, in fact, that his son was still too weak from the last operation to have it installed.
It was first and successfully installed in another child, and then in March 1956, John Holter's valve was used in Casey, successfully treating his hydrocephalus.
Sadly, Casey never fully recovered from his brain damage from the previous operations, and he died during an epileptic seizure five years later.
Fittingly, Casey's legacy is that Holter's invention, now called the Holter shunt, is still in use today. Holter spent the rest of his life developing valves for medical use and passed away in 2003, having saved the lives of thousands children affected by the same condition as his son.
It is estimated that 15,000 valves based on Holter's design are installed every year in the United States alone.Extracts from John Holter's obituary:
Between 1989 and 1993, he donated more than $600,000 to local charities. "I'd rather do it while I'm alive and see it do some good," he said in 1993, "rather than have an estate and have the lawyers fighting over it." In 1991, he gave a $100,000 charitable annuity to the United Way of Pinellas County. The gift, in the form of stock, was to transfer to the United Way upon the deaths of Mr. Holter and one other person, whom he declined to name. "I don't believe in leaving my money to Uncle Sam, and I'm not interested in owning 110-foot yachts," said Mr. Holter.
John was well-known to SRHSB members and he attended almost every meeting until a few years before his death. He attended the scientific sessions and joined in the discussions.
John donated a sum of money to the Society that has funded an essay prize and a lectureship in memory of his son Casey since 1965, with several subsequent eminent recipients.
SRHSB Executive Committee deeply appreciates Dr. Holter's generous donation, and considers it to be a key part of the important 'Gift of Knowledge' that allows our Society to reach out and interact with all communities concerned with the alleviation of hydrocephalus and spina bifida
June 01, 2013
M.M. Guerra
"Neural stem cells: are they the hope of a better life for patients with fetal-onset hydrocephalus?"
July 02, 2007
H. Williams
An Essay Concerning the Pathogenesis of  Hydrocephalus
July 01, 2004
B. Vaccha and R. Adams
A Temperament for Learning: The Limbic System and Myelomeningocele
July 02, 2001
J. Miyan, C. A. Sobkowiak, and C. Draper, dedicated to the memory of Michaela and Angela Miyan
Humanity lost – the cost of cortical maldevelopment – is there light ahead?
July 03, 1995
M. Jouet
The genetics of Hydrocephalus
July 01, 1992
C. A. Sobkowiak (First Prize)
Effect of Hydrocephalus on Neuronal Migration and Maturation
 July 01, 1992
G.S. Liptak (Special Prize)
Tethered Spinal Cord: An Analysis of Clinical Research
June 01, 1985
A.I.P. Maas
The Rotterdam Teletransducer: State of the Device
July 02, 1981
M. Sellar
An Essay on Research into the Causation and Prevention of Spina Bifida
June 27, 1977
B. Williams
The Pathogenesis of the Chiari malformation
July 02, 1973
S. R. Wealthall
An Investigation of Factors Involved in Regulating Ventricular Size and the Production of Hydrocephalus
July 13, 1971
G. Stark and M. Drummond
The Spinal Cord Lesion in Myelomeningocele
H.F. Grundy
Circulation in the Cerebrospinal Fluid in the Cat and Rabbit 
A.J. Barson
Spina Bifida – the Significance of the Level and of the Extent of the Defect to the Morphogenesis
PREVIOUS LECTURESHIP PRIZE WINNERS
September 30, 2022
Roger Bayston
Historical perspectives leading to modern approaches to infection in CSF drainage.
July 03, 2014
J. P. McAllister II
Improving Treatments for Hydrocephalus: Are We Maintaining the Legacy of John Holter?
June 01, 2011
M. Cartmill
Prenatal Counseling: Setting the Standards
May 18, 2005
J.J. Mazur
The Adult with Spina Bifida
June 01, 2002
P.D. Griffiths
The Assessment of the Posterior Fossa and its Contents by Magnetic Resonance Imaging of the Foetus
July 01, 1999
J. M. Hunt
Non-Selective Intervention in Newborn Babies with Open Spina Bifida: the Outcome 30 Years on for the Complete Cohort
June 26, 1993
D. Donnnai
What is New in the Genetics of Hydrocephalus and Spina Bifida?
June 06, 1990
D. McLellan
Choices for Young Adults
July 12, 1988
J. Bradshaw
Social Impact of Childhood Disablement 
July 21, 1986
D. B. Shurtleff
Meningomyleocele – A New or a Disappearing Disease 
June 29, 1984
M. Michejda 
The Fetal Neural Tube: Is Intervention Progress?
June 23, 1982
A. N. Guthkelch
Evoked Potential Studies: Some New Techniques and Applications 
July 16, 1980
H. B. Eckstein
The Paediatric Urologist's Dilemma
June 29, 1978
K. Shulman
Intracranial Pressure/Volume Relationships
July 19, 1976 
Malcolm Manelaus
Orthopaedic Management in Myelomeningocele: a Plea for Realistic Goals and a Minimum of Surgery
June 28, 1974
C. O. Carter
Clues to the Aetiology of Neural Tube Malformations
July 27, 1972
H. Davson
Dynamic Aspects of Cerebrospinal Fluid
June 22, 1970
D. F. Ellison Nash 
The Impact of Total Care (with Special Reference to Myelodysplasia)
A. J. Bengt Kallen 
Early Embryogenesis of the Central Nervous System with Special Reference to Closure Defects
G. H. MacNab
The Development of the Knowledge and Treatment of Hydrocephalus